Welcome back, Commanders! GameReplays.org is proud to announce the
C&C Tiberian Dawn Remastered Resurgence Tournament
to be held
Saturday 13th June at 12:00 GMT
. If you would like to join the tournament, check out the details and sign-up information below!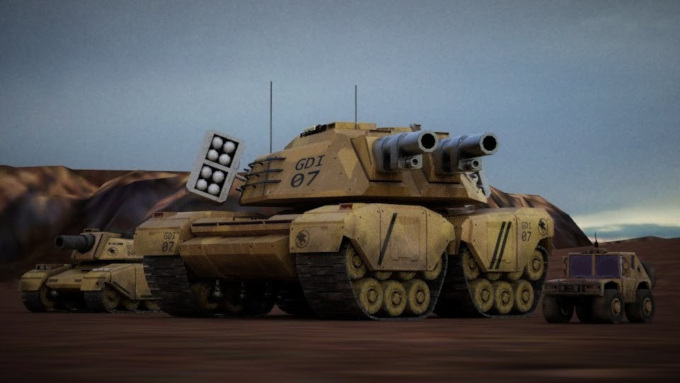 Image made by StrangeYoungMan and licensed to GameReplays.
Details
Date and time
Saturday, June 13th at 12:00 GMT
To compare GMT to your local timezone, you may use one of the following internet services:
greenwichmeantime,
timeanddate,
timezoneconverter.
This tournament will be run on the official C&C Tiberian Dawn Remastered server, so please confirm that you are able to access it before you attempt to join this event.
When signing up please state the username under which you will be playing in the tournament.
It is your own responsibility to make sure you check in and show up at the correct time and date. Check in procedure is elaborated thoroughly further below. You will not be reminded individually by staff or by a referee. The entire tournament will be finished within an estimated 4-6 hours, so please make sure to clear your schedule in advance.
Prizes
Prizes will be awarded as follows:
First place 50 USD
Second place 25 USD
The prizes (for both C&C Remastered Collection Resurgence Tournaments) are sponsored by:
Prizes will be paid out through PayPal only. It is the winners' duty to provide GameReplays a functional PayPal mail no later than 14 days after the event is over. Failure to meet this deadline will result in the prize being revoked. Participants who forfeit the tournament before having been eliminated are not eligible to win any prize including prize for random participants.
Referees:
Rules and Formalities
Event Format
The tournament will be played as a single elimination tournament. All games will be best of 3 up to the Semi finals which will be played as best of 5. Grand finals will be played as best of 7. Third place playoffs will not be held.
Awards
This event will be treated as an event sponsored by GameReplays for the purposes of Awards. The two medals we will be handing out are the Tournament Winners Medal and the Tournament Participation Medal. To gain the Tournament Winners Medal, you just have to win a tournament. To gain a Participation Medal, you must participate in all rounds of the tournament until you are eliminated (this includes the 3rd place playoffs if they are held).
Signing up and checking in
You must be signed up by the time that sign ups close (1 hour before the event is due to start). Entries after that time may be accepted at the discretion of the tournament organizers. Apart from that, you need to be checked in before the event starts. For the purpose of checking in a check-in-topic will be made on GameReplays in the main discussion section for C&C Tiberian Dawn Remastered 15-30 minutes before event is due to start. Checking in is done by leaving a comment like "check me in" and its purpose is to let the tournament organizers know which of the signed up players are going to show up and which not. Participants who have not checked in by the time the check ins close will under no circumstances be added to the brackets and be able to participate in the event.
Please note commanders, letting someone else play in your name in an event is treated as cheating by GameReplays and will be punished accordingly. The fixed penalty for a first offence cheat conviction prescribed by the site rules is a 28 day suspension from GameReplays. The penalty for a second offence is a permanent ban.
Gameplay
For this tournament any faction is allowed including random.
If referees or commentators want to observe your game,
you must open a slot for them
.
Not letting commentators or referees in may result in you getting disqualified from the tournament.
Map pool
During this event you can only use these selected maps.
Tournament Arena*
One Pass Fits All
Village of the Unfortunate
King of the Mountain
Nowhere to Hide
Secret Valley*
Straight and Narrow
Maps denoted with an asterisk can be downloaded in-game by clicking on "user maps" in online lobby. The map selection is fixed and not negotiable.
Rules
Following rules need to be set in game lobby before players start their matches:
Mode: Bases On - Destroy Structures
Game Speed - Normal
Starting Units - Few
Tech Level - 7
Credits - 10,000
Unit Queueing - Enabled
Tiberium Regrows - Enabled
Crates - Disabled
Super Weapons - Enabled
Redeployable MCV - Disabled
Spawn Visceroids - Disabled
Maps for each round
The starting map for each round is Tournament Arena. Then loser picks from map pool.
Players will need to choose position on map before the game starts. If two players cannot agree on positions then the referee will choose the positions.
Playing on maps that are not in the map pool is prohibited. Players who play for the first time on a map that is not part of the map pool will receive a warning. In case of a recurring violation of the aforementioned rule, the tournament organizer will decide what to do at their discretion. If your opponent insists on playing a map that is not in the map pool, please let the tournament organizer know.
Seeding
Seeding will be randomly seeded before the tournament starts.
Result Reporting and Replays
After the winner of each round has been determined, it is the responsibility of the
winning player
to report the victory to a referee and to post the result and the replay(s) in the specified results thread. Players may not proceed to play their next round unless and until the replays (both defeats and victories) from the previous rounds have been uploaded to gamereplays.org as directed by the tournament rules or staff.
Conduct at the Event
Players are expected to assist in the conduct of the event. Accordingly, conduct which tends to disrupt the event, including a failure to follow the instructions of the tournament manager or staff, interrupting or intervening in announcements made by the tournament staff or discourteous or disruptive conduct generally may result in forfeiture, sanction or disqualification from the tournament or future tournaments. The decision of the tournament manager on all matters concerning the conduct and outcome of the tournament is final and not open to debate. Questioning any such decision is likely to be treated as disruptive conduct.
Delaying one's own defeat in a game where defeat is inevitable and there is no tactical advantage to the delay may be considered bad sportsmanship and treated as such.
Bugs and Exploits
Use of bugs and exploits is prohibited. However, due to the game being a new release and a complete list of bugs and exploits not being available yet any participant using bugs/exploits will be dealt with on a case by case basis with the potential of full exclusion from future tournaments.
Disconnects/desynchs
Should a tournament participant lose connection during a match then the match will be treated as a loss for the participant who lost connection unless they had a clear lead to the point that the match was already decided and the opponent had no realistic way of winning the match (tournament organizers' discretion applies), or if both participants agree to re-play the match. If they re-play the match the same factions and map must be used.
If a participant disconnects multiple times in a tournament they may be DQ'd.
Cheating/Disconnecting/Dispute Resolution
All reports and issues will be resolved by the tournament manager and the referees. Cheating will result in exclusion from the tournament and a ban from future tournaments hosted by GameReplays.org. Poor sportsmanship may also result in disqualification from the tournament.
Ladder Wars Tournament Rules
To the extent that these rules do not expressly provide otherwise, the
Ladder Wars Tournament Rules
for C&C 3 apply to this event.
Being Late
Players/teams that fail to show how up within 15 minutes of their allocated match time will be disqualified. At this point, an alternate player(s)/team may be allocated to their position, or the opponent will advance. Players are expected to continue playing until eliminated or until the end of the tournament is reached. Failure to play rounds in an expedient manner may result in disqualification.
Registration
If you accept the rules and wish to participate in this tournament, please post in the tournament discussion topic, giving the online username you will be using. Registration for the event closes
1 hour
before the event is due to start. Entries after that time may be accepted at the discretion of the tournament organizers but under no circumstances will entries be accepted after check-ins have closed.
Please make sure you can access the official C&C Tiberian Dawn Remastered server
BEFORE
you sign up for the event.
Please do not sign up if you are not 100% sure that you will be attending the tournament.
If something comes up and you are unable to attend the tournament, please post in the tournament discussion topic at once so that your slot may be reallocated to another player. Failure to show up without in-advance cancellation may result in exclusion from future tournaments.
We hope to see you on the battlefield, Commanders!


C&C:Online FaceBook
Subscribe to receive notification of events and other items of interest!