Good day Generals,
The awaited 1.04+ patch BETA version is now out! Aimed to balance the game a bit better, yet giving you the EXACT feel of 1.04!
Below are the preview pictures of changes to
prices, build times, generals ability timers
for each faction, click the faction names to download/checkout the complete change-log PDF's per faction.
USA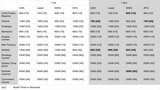 China
GLA
You may download the patch here:
Zero Hour 1.04+ Beta Patch 1
To apply the patch just throw the file into your ZH Folder, usually something like
C:\Program Files (x86)\EA Games\Command & Conquer The First Decade\Command & Conquer™ Generals Zero Hour
unless you moved it. Then just start your game.
If you wish to make a separate shortcut launcher, simply paste the file in the ZH Folder located in
\My Documents
, then duplicate your ZH desktop shortcut and add the following command line under properties (like you add
-quickstart
):
-mod !1.04+Beta1.big
We hope you'll give it a try and keep a lookout for (very) soon upcoming tournaments! If you care, ladder games still count playing 1.04+.