264 users online in the past 15 minutes
245 guests and 19 members
C&C:Online is the new, community-run way to experience C&C multiplayer like in the GameSpy days!
Ladders for Generals and Zero Hour are already available. Simply install the latest GenTool build and play on!
Control Bar Pro by FAS & xezon
By Leikeze - 25th April 2021 - 12:35 PM
Control Bar Pro
Version 1.0
> Download
> Images
ReadMe.txt file is included with instructions.
If you used Control Bar Obs before, then you know how it works.

There are different download presets available for different resolutions:
3840x2160
2560x1440
1920x1080
1600x900
1280x720

It is recommended you pick the package that matches or is close the resolution that you have set in the game. The Control Bar is the same in all download packs, however the text scaling is adjusted for resolutions.

All native game languages are supported:
Brazilian
Chinese
English
French
German
Italian
Korean
Polish
Spanish

It may take some matches to get used to the new sizing. All ingame icons and windows are smaller. Control Bar Pro production icons are just a bit larger than icons in Command and Conquer Red Alert 3, 1920x1080. If you have difficulties to see icons, then either move eyes closer to Monitor, buy larger Monitor or stick with original Control Bar.

This addon is best used in Combination with Control Bar HD to upscale all Control Bar icons as well.
> Control Bar HD Download
This addon has been created by FAS and xezon. It has been a pleasure to work with FAS on this project. This addon maybe does not look like much, but the time spent in this project was certainly respectable. FAS spent around 150 hours, and xezon spent around 150 hours.

If you want to leave a tip for our work, you can do that via the GenTool PayPal Account. All tips will be split with FAS. Maybe he can then send us pictures on how he invested money in Vodka and Kalashnikov and made big party in Siberian Forest fighting lousy bears. (Please add a note to PayPal mentioning Control Bar Pro)

Enjoy.
Control Bar Pro:
Original Control Bar: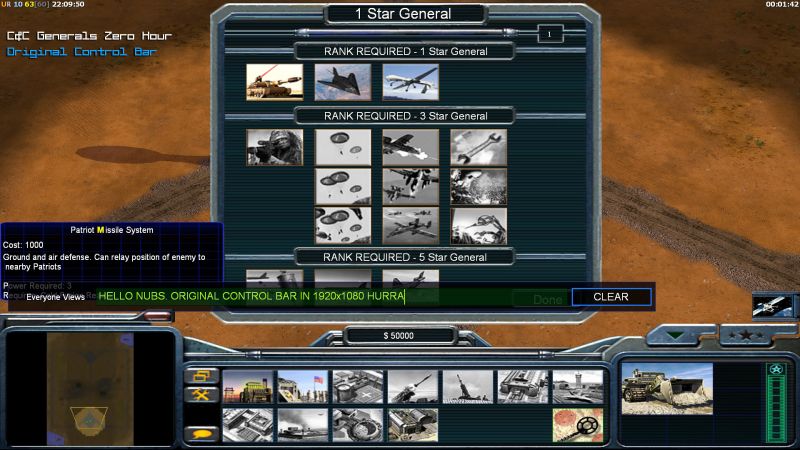 Discuss

/ Support