488 users online in the past 15 minutes
473 guests and 15 members
C&C:Online is the new, community-run way to experience C&C multiplayer like in the GameSpy days!
Ladders for Generals and Zero Hour are already available. Simply install the latest GenTool build and play on!
Control Bar Pro Version 1.2
By Leikeze - 16th November 2022 - 11:42 AM
Control Bar Pro
Version 1.2
> Download
> Images
Welcome Generals.

Back in May, many hours were spent to significantly improve Control Bar Pro visuals and technology.

All Control Bar Pro textures are now in 4k quality. They are available in the 3840x2160 and 2560x1440 presets. The 1920x1080 preset retains the same pristine visual quality as before with legacy sized textures.

All textures now use DDS compression. This cuts GPU memory requirements significantly.

The command bar textures now have a faint transparency. Just a bit, because the intent was not to increase battlefield visibility, but to hide minor DDS compression artifacts on uniform gradients. Additionally it looks new and fresh compared to the previous version.

Changes v1.2:
- Added high resolution textures for 3840x2160 and 2560x1440 presets
- Added slight transparency to major areas of the Command Bar
- Added DDS DXT formats for all textures
- Added new Quit Menu for Single Player
- Decreased faction icon sizes in Upgrades Window
- Decreased font sizes in 720, 900, 1440, 2160 presets
- Increased font size of group numbers
- Fixed scroll list box text sizes in Disconnect and Diplomacy Window
- Fixed position of Available Gen Points number
- Fixed missing mission log in Single Player diplomacy window
- Improved batch scripts that can toggle this Addon on and off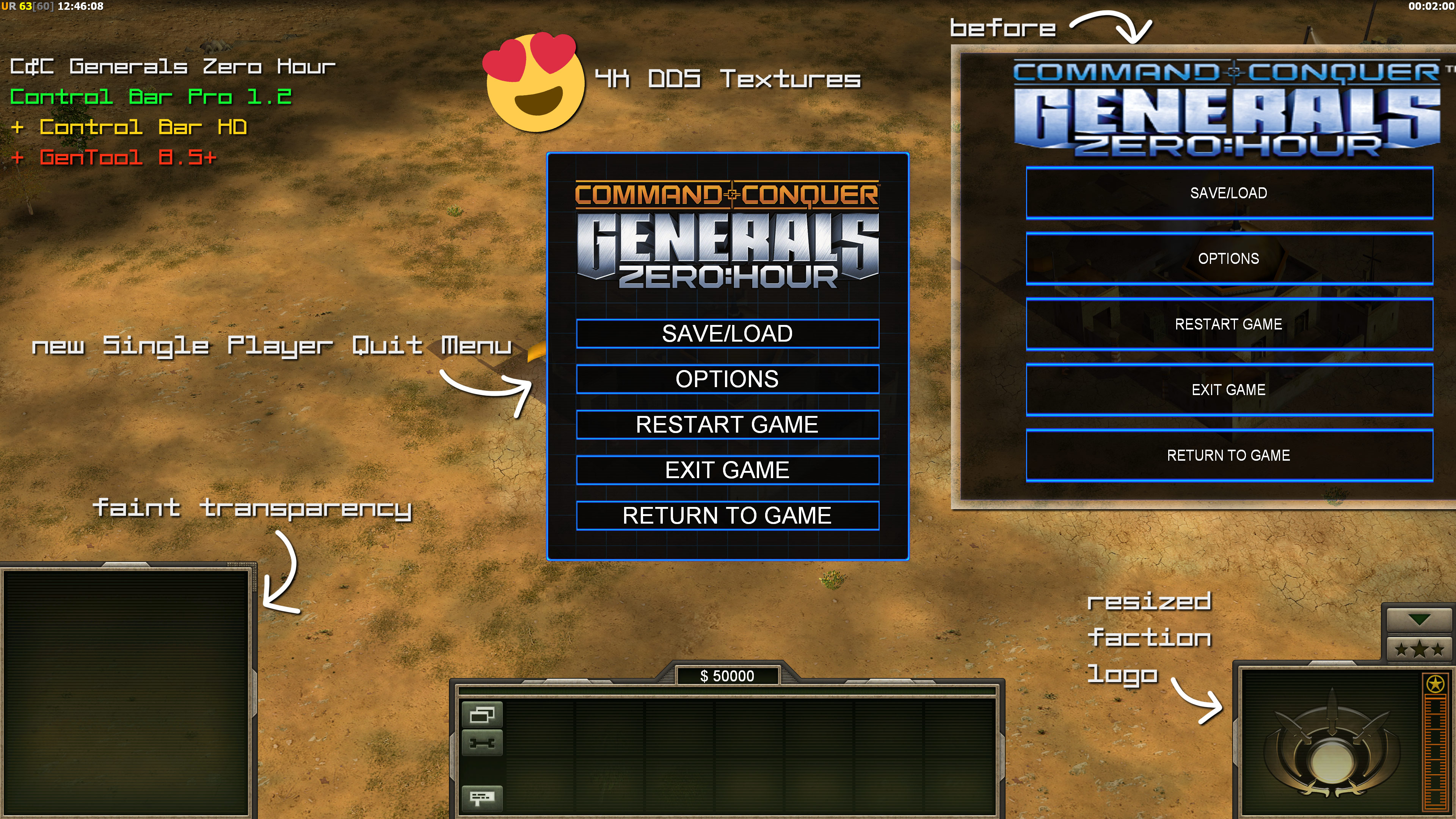 ► Discuss Control Bar Pro HERE ◄