Infantry Section
(Known as Tommies)
Built from:

Headquarters Command Truck


Cost:

450 manpower

, Population:

5

Cap Speed:

1.0


Info
: Good vs. Infantry, Light Vehicles, Constructs Defenses: British Infantry are dogged, well-trained soldiers with a variety of versatile upgrades that enable them to tackle a variety of combat tasks.


Abilities:

Can Construct:
Slit TrenchCost
:
Free
Info
: Slit trenches provide excellent cover for Infantry, especially from artillery fire. Grenades and incendiary devices are dangerous to units in slit trenches.
Vickers Machine Gun EmplacementCost
:
280 Manpower
, 3 Pop.
Info
: A well fortified emplacement is constructed for the venerable .303 Vickers Machine Gun, capable of sustained heavy suppressive fire.
3" Mortar EmplacementCost
:
280 Manpower
, 3 Pop.
Info
: The Mortar Emplacement contains a 3" mortar capable of lobbing rounds over objects at long range.
Casualty Clearing StationCost
:
180 Manpower, 15 Fuel
Info
: Houses Medics that return Casualties back to the Station; if enough Casualties are collected a new squad will be granted. Units within proximity of the casualty clearing center can be healed with Medical Supplies.
* View HERO's Defense building guide for more information about these defensive emplacements. *
Upgrades:

Recon Element
Cost:

35 Munitions


Abilities:


Deploy Marksman;

25 munitions

per shot (1 shot, one kill) 25 second recharge between shots

Info: Can utilize the Lee Enfield Sniper rifle: Upgrades to a faster moving, but more lightly armed recon squad also adds a well trained marksman.










A very useful upgrade that makes your tommies move at full speed in any territory without the influence of a lieutenant, making them the ideal harassment and capping units for the British army. Can use the 25 munitions sniper ability to quickly take out any enemy infantry unit, which it makes it the incredibly hard counter to Wehrmacht Snipers.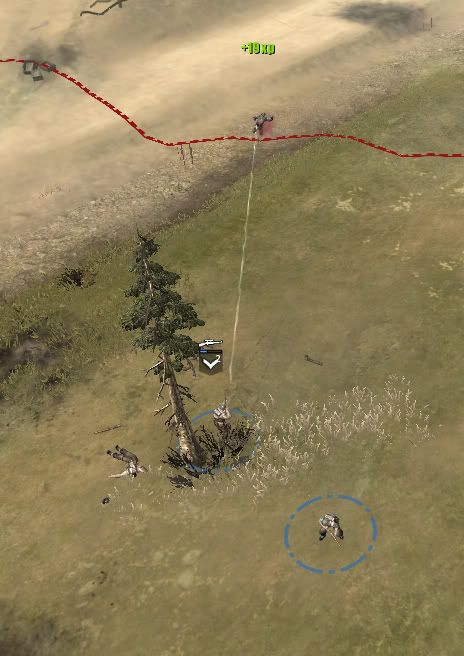 A Recon squad can take multiple sniper hits and still counter snipe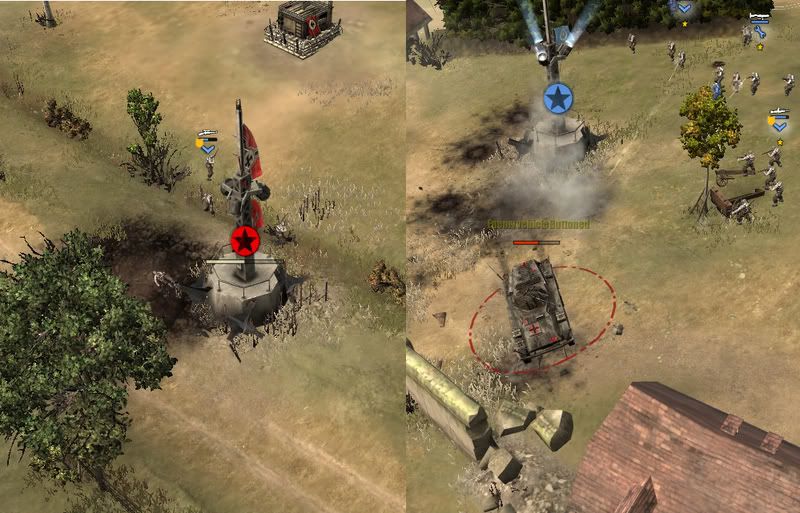 Recon squad harrasses an enemy Victory Point while the rest of your forces engage the enemy

With the upgrade comes a huge increase in LOS (Line Of Sight) nearly the LOS of a Motorcycle, creating an easy way to scout and flank MG42s since you can see them before they can even see, let alone shoot, you.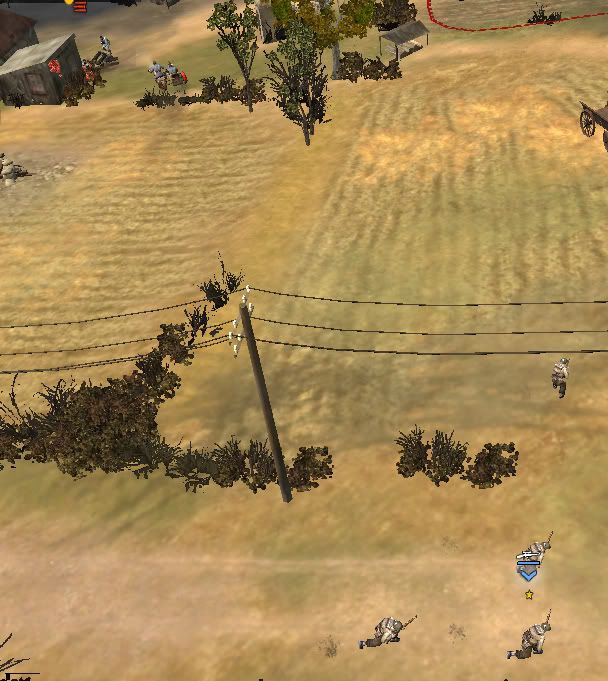 Tommy squad can see the MG without being in the firing range

But if you do find yourself in a head on vs a MG42 and have the munitions to spare, a quick snipe will take out the gunner, giving you enough time to flank around and kill the rest of the crew.









Recon squad snipes the MG gunner, giving them enough time to flank and force the mg off the field

Recon squads do receive some combat penalties, so they do perform weaker than regular Tommies, but with their ability to move quickly across all terrain, they are still better than riflemen and if you find yourself at the brink of a loss/win engagement you can use the sniper ability to tip the scale in your favor.

Using your recon units with their large LOS patrolling in front of your main defense detecting attacks in advance will leave you nicely prepared for anything they might throw at you, and in mass and using more than one sniper ability at the same time you can kill off squads nearly instantly.




Bren Light Machine Gun
Cost:

75 Munitions




Abilities

:




Button Fire

; Can use Button fire on vehicles (immobilizes gun, movement and reduces LOS with sustained fire)

25 munitions

for 40 seconds of fire.

Info: Better vs. Infantry and vehicles: The Bren Light Machine Gun adds much needed firepower to the Infantry Section and also enables them to slow enemy vehicles with accurate fire.










Brens gives a nice boost to your army in a machine gun that gives good damages at nearly all ranges, a must for any army really in my opinion as the firepower just adds to the power of the Tommies.

The Bren is a stop fire weapon - if the squad is moving it wont shoot which at best reduces you to 3 rifles. Keep this in mind when you are moving units around under fire.

*



If you can spare the munitions put a pair of these babies on any unupgraded Tommies squad and watch the Axis playerís infantry be chewed to pieces.

As well as increasing the damage to infantry, the Bren gives a large increase to damage vs Light vehicles as well, making this a must for quick (or mass) Half Tracks, Scout cars or the like.

I have seen many players use the Brenís button ability in a completely wrong manner. For 25 munitions you can pretty much immobilize an enemy vehicle (including the main and support guns) for approximately 40 seconds, and while it has a fairly long range, it is really only at itís peak effectiveness at mid-short ranges. The Button works as a constant fire suppression for vehicle, and if the fire is stopped for some reason or another the vehicle can move freely. At longer ranges it is also possible for the vehicle to slowly move out of the area and escape without destruction. If at all possible, move in close then fire the button and focus fire on the light vehicle till itís fiery demise. Button can be used against all vehicles, from bikes to the King Tiger, so this can be an amazing tool for any fight involving vehicles.









Buttoning a Panther allows a Stuart to flank behind without harm

Button and use PIAT engineers to flank behind, use button to keep a heavy armored target in the range of your 17 pounder, button and give your Cromwell enough time to flank behind, to simply button to delay the death of your troops until a counter can arrive. All these are effective uses for the Button ability.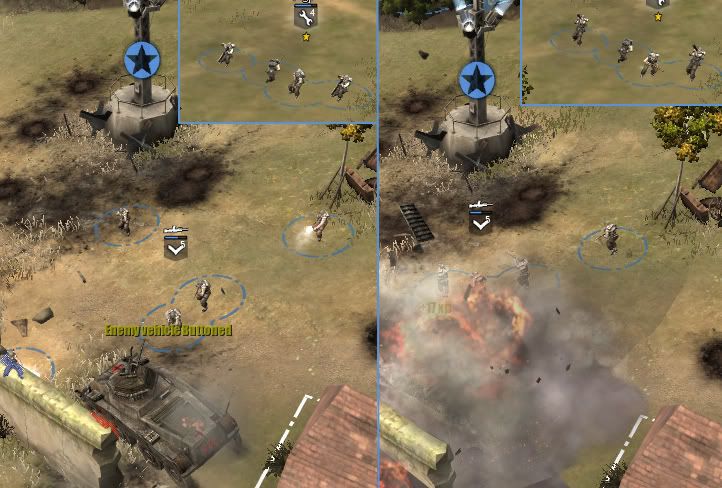 Buttoning Tommy squad with Sapper support take out a Puma with ease, note the close range of the Bren squad to maximize the effect of Buttoning

Rifle Grenades
Cost:

75 Munitions




Abilities

:


Rifle Smoke Grenade; can use Rifle Smoke Grenades for

25 munitions

(Blankets area in a cover of smoke reducing accuracy and suppression to units firing from or through the smoke)

Info: Good vs. Infantry and Infantry in Buildings: The infantry section will upgrade their rifles to enable them to fire grenades.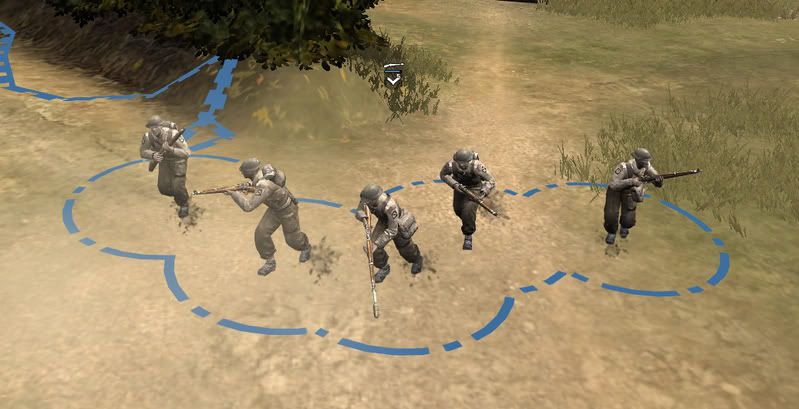 The bane of any Wehrmacht player, these give the Infantry section a pair of soldiers armed with rifle grenades that are fired without cost every 5 or 6 seconds. While slightly inaccurate these deal HUGE damage to units in buildings and even out in the open, not to mention the splash damage. The upgrade does remove 2 rifles from the squad, so they are inferior in straight firepower than a normal Tommy but the benefits are greater.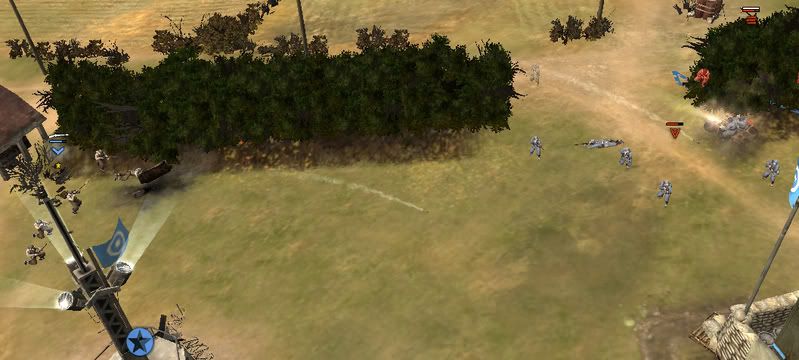 Rifle grenades showing their long range power
Rifle grenades also have a ďscatter effectĒ akin to a panzershreck or bazooka shot that will scatter infantry, which can slow an incoming assault.

The Rifle Grenades have no accuracy penalty for firing on the move which can be really handy as you can keep them on the move without fear that the next volley will be wasted.

*



The greatest power of rifle grenades is their ability to shoot OVER hedgerows, buildings or high walls that normal infantry cannot shoot over. Similar to a PIAT equipped sapper an rifle grenade Tommy squad can deal fairly long range damage to enemy squads with NO damage whatsoever. You can take out an MG/ Sniper/ Volks all in a house with out even taking a single ounce of damage.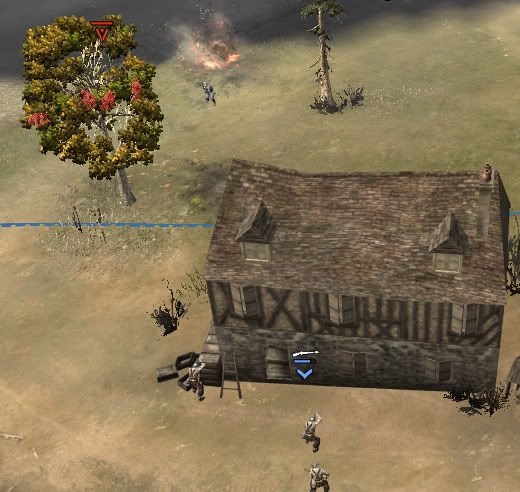 Rifle Grenade squad shooting over a building at a Volks squad

Rifle grenade squads also have the ability to use smoke grenades that give the same bonus as mortar some for 25 munitions. This can be useful in any overwhelming situation, putting smoke on weak or important squads.




Overall Tommies usage:



Tommies are best used at mid-long range, keeping the Lieutenant as far away from the enemy as possible but still giving a bonus, keeping your Tommies at longer ranges forces the enemy to go through your infantry to get at your officer while they take damage the whole way there. Recon elements near the front scouting for enemy attacks and using the snipe ability on high danger targets such as panzershreck squads or FG42 Fallshrimjaegers forcing them to retreat earlier and thus giving you the advantage. Brens as your main infantry weapon dealing good damage at all ranges, and rifle grenades to deal damage from behind hedges, buildings and your own squads.

Using your Recon squad(s) to harass and cutoff is key as you can have your main army engaging the enemy, while your recon squads de-cap their high points, effectively forcing them to engage you and lose their resources or fall back to defend; either way you have won the engagement.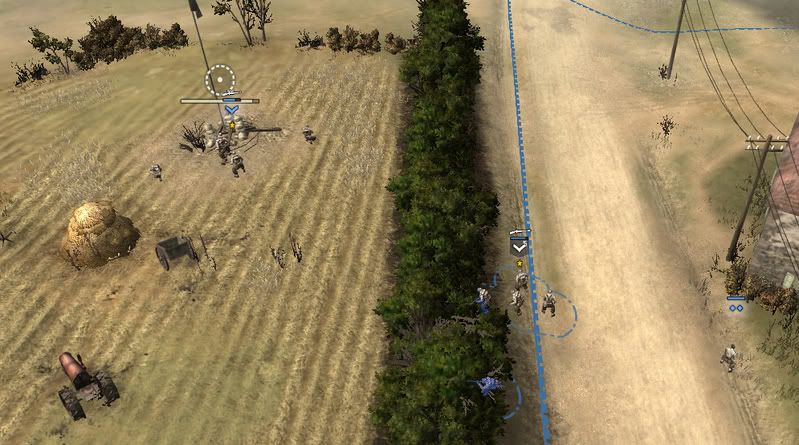 Recon caps while an Rifle grenade squad sits within range to lob grenades over the hedge, while a lieutenant still gives a bonus

As the Brits you will nearly always be faced with the threat of a mortar or artillery unit, so always be on the look out and be constantly be moving your units as a single shell can take out half your army if you are not careful. If you are attacking a PE player that you know has a Mortar HT nearby, stop, fire, then move forwards, towards the HT, which will always be firing at your back and you can go nearly right up to it and force it off, which in turn can help you turn the tide of the battle.

And don't be afraid to retreat your entire force from the field, British are most powerful in large numbers and if one of your 3 squads are getting low on health and you know you cannot win, then just retreat all of them, and live to fight another day.

As Brits you won't have nearly as far to run back to your HQ to reinforce so use this to your advantage, and if they try to follow you back, just cycle your weakened squads behind the HQ and reinforce while taking out their units.

Heroic Charge from the Vet 1 LT gives your tommies a HUGE boost in firepower so use it in any large battle combined with focused firing to take out squads quickly.






Thanks to:
A big thank you goes to Sturmtruppen for all the game icons and the fantastic site!
And the Expert AI for the Screenshots



*

Finch49th1stAIF; for the added tips on brens and rifle grenades

-Tamiya